We are pleased to announce the release of HelpSmith 6.0. Below is a quick overview of new features and improvements made in this version.
Improved Import from CHM, HTML, and HHP files (with CSS support)
In HelpSmith 6.0 we have implemented the possibility to import HTML files, compiled HTML Help (CHM) files, and MS HTML Help Workshop projects (HHP) including linked CSS styles.
This means that when you import a help file or document created with a third party application, HelpSmith will retain the formatting attributes for text, paragraphs, tables, bulleted and numbering lists, and so on.
New Possibility to Import MS Word Documents
Also, we have implemented the possibility to import MS Word documents including .DOC, .DOCX, and .RTF formats.
It should be pointed out that if your Word document contains a Table of Contents, HelpSmith will automatically import the content into separate help topics.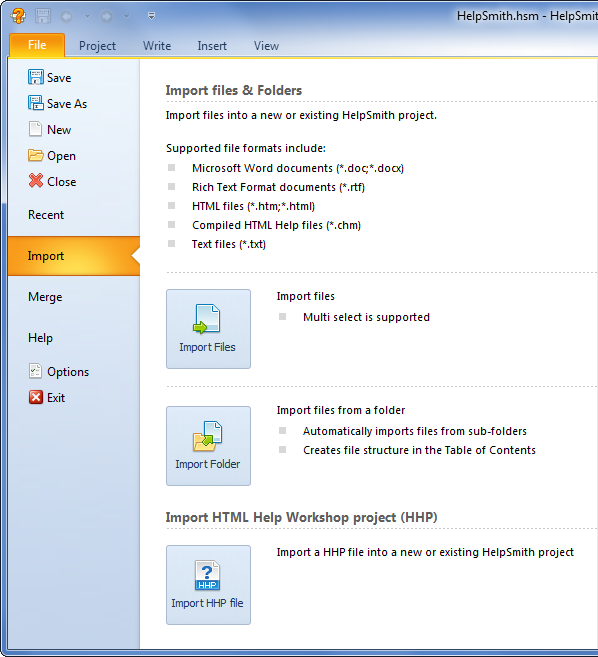 New Import Feature in HelpSmith
The Possibility to Import Multiple Files into the Same Help Project
In addition, the new Import capability in HelpSmith 6.0 allows you to import not only a single file, but also a batch of files or even a folder containing sub-folders and files of the supported file types.
Thus, moving existing documentation into HelpSmith is now as easy as never before!
Other Improvements and Bug Fixes
The new version also includes the following improvements and minor bug fixes:
Now it is possible to setup the horizontal and vertical position of a background in percent values;
Fixed minor formatting issues in HTML Help and Web Help formats;
Paragraph line spacing was not properly exported into HTML-based formats in some cases;
Other minor improvements and bug fixes.
Download HelpSmith
You can download the latest HelpSmith version here.
How to Upgrade
If you are a registered HelpSmith user for less than a year, please contact us for a free upgrade to version 6.x. In other cases, if you have a license for a previous HelpSmith version, you can upgrade to HelpSmith 6.x with a 50% discount. You can place your upgrade order by visiting this link.