If your Web Help system includes topics on most frequent questions and issues, it can significantly save the time that you spend on providing technical support to your users. Actually, all you need to do is to provide the user with a link to a help topic that already answers a specific question.
How Do I Get the Link to a Specific Help Topic?
In popular browsers such as Google Chrome, Firefox, or Internet Explorer, you can simply right-click on the needed topic directly in the Table of Contents and select the appropriate command from the popup menu to copy the topic's link to the Clipboard. Then you can paste this link into the email message that you are going to send to your user by pressing Ctrl+V.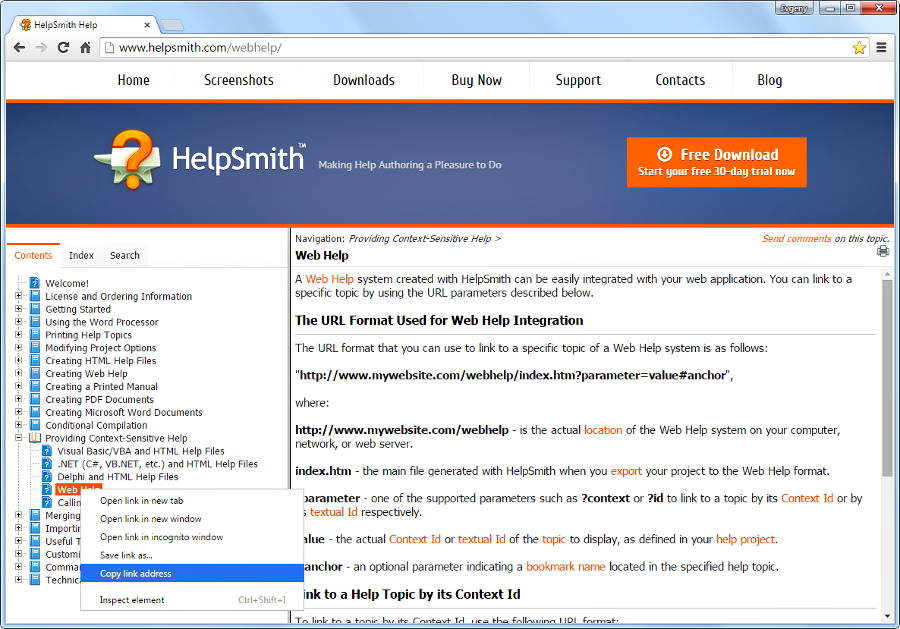 Copying the topic's link to the Clipboard
Integration of a Web Help System with Your Application
Please note that you can also integrate a Web Help system with your application or website and provide context-sensitive Help. Thus, your users will be able to easily get a reference on a specific section by clicking a link in your application directly. You can visit this help topic in HelpSmith Manual for the reference on the URL parameters supported by Web Help.