We have released HelpSmith 6.1.2 that adds better export of tables to the HTML/CSS format, fixes issues with rendering some PDF documents, and includes other minor improvements.
Improved Export of Tables to HTML/CSS
HelpSmith 6.1.2 fixes known issues that caused incorrect displaying of tables in some cases. Table borders defined in HelpSmith are now correctly displayed in the HTML Help (CHM) viewer and Internet Explorer 8.
Fixed Issues with PDF Documents
In certain cases, overlapping text appeared in a generated PDF document.
For italic text that uses a font without native support of italic style: underline was not properly rendered, also excess space was added between words. Since HelpSmith 6.1.2 italic simulation mode is no longer used for such fonts in PDF.
Some GIF images were not displayed in a PDF document.
Added new font embedding option "CID Font Embedding for Unicode Fonts" that provides proper displaying of special characters for some languages. Please note that this font embedding mode can be used with fonts containing a full set of Unicode characters only.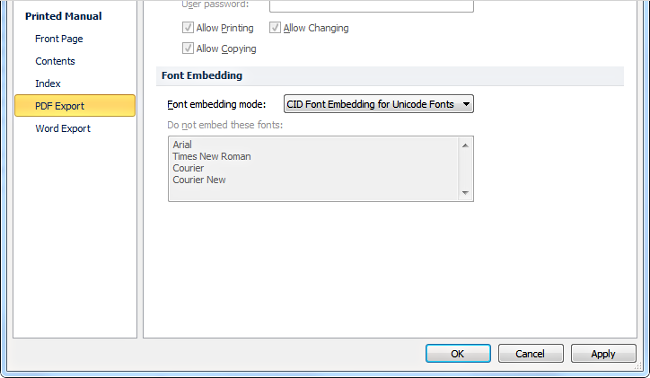 CID Font Embedding Option in PDF Settings
Other Improvements and Bug Fixes
Edit Image, Properties buttons did not appear for images in some cases.
The Media Repository now does not allow you to set an incorrect extension for a video file similarly to graphic files.
Added tooltips for bookmarks, and conditional text elements in the word processor.
Other minor improvements and bug fixes.
Download HelpSmith
You can download the latest HelpSmith version by visiting this link.