We have released HelpSmith 6.2 that includes a number of improvements to the Image Tool, enhanced "Go To" feature, better export of bulleted and numbered lists, and quick access to table-related functions.
Improvements to the Image Tool
Now you can show annotation titles only in the document, and hide the titles in the image.
Added the preferred width and horizontal alignment options for annotation tables.
When you delete a control image directly in the word processor, the option "Create image for this control in the document" is now automatically unchecked.
Added the possibility to edit properties of multiple annotations in the Image Tool.
The Add Annotation button now displays the annotation properties dialog.
Show/Hide Annotation Titles in the Image
Enhanced "Go To" Feature
The enhanced "Go To" feature available in the "Find and Replace" dialog allows you to search for a topic, bookmark, table, image or video, hyperlink, text variable, or another object used in the help project. For example, you can easily find a topic with a specific Context Id, an image with a specific filename, or a hyperlink linking to a specific topic or URL.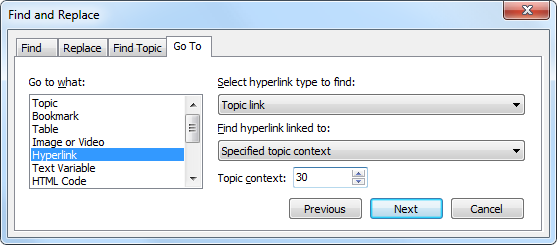 Finding a Hyperlink Linking to a Specific Topic
Bulleted and Numbered Lists
HelpSmith 6.2 includes better export of bulleted and numbered lists to the HTML format, so lists of different types are now properly displayed in different browsers.
Quick Access to Table Functions
Now you can easily access table-related functions such as inserting a row, or deleting a column directly from the right-click popup menu in the word processor. Also, you can now easily change the alignment of text in a table cell by selecting one of the possible variants.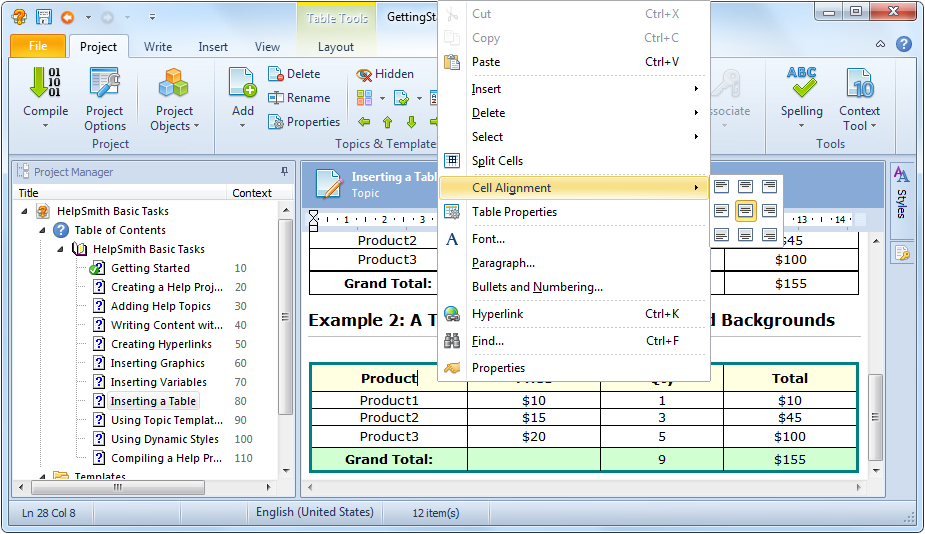 Quick Access to Table Functions
Other Improvements and Bug Fixes
Optimizations for better stability and faster performance.
Other improvements and minor bug fixes.
Download HelpSmith
You can download the latest HelpSmith version here.